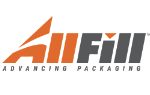 All Fill Auger Filler Systems.
All-Fill is located just outside of Philadelphia, Pennsylvania. We design, manufacture, service and support a complete line of machinery for filling, bagging, checkweighing, labeling and bottle unscrambling equipment.
Founded in 1969, All-Fill's initial offering was an economical, highly reliable auger filler for powder filling and liquid filling that featured a simplified, "no nonsense" design that could accurately dispense product with a minimum of setup, maintenance or operator intervention. From its founding in Newtown Square, PA (1969), it has expanded, first to a 25,000 square foot facility in Malvern, PA (1977), then to its present 65,000 square foot facility in Exton, PA (1989).
All-Fill takes great pride in manufacturing from start to finish to ensure the customer that we have complete control over our internal processes. Proudly manufactured in the USA, All-Fill's business model is firmly established between three distinct product lines that can be sold individually or full integrated as a complete packaging solution.
All-Fill is nonexistent without the extraordinary group of employees that have called All-Fill home for many years. Family owned and operated since 1969, a vast majority of All-Fill employees were originally hired as family members, friends, past coworkers or based upon referrals from existing employees. The work environment at All-Fill is truly unique. Please feel free to reach out to any individual listed below as they are sure to make your experience with All-Fill a positive one.
Bauermeister Probat Group
Bauermeister Probat Group serves various food products, confectionary, fertilizers, chemicals, cosmetics, minerals, herbs/spices, pigments, oil seeds, pharmaceuticals, lactose, super absorbents, nutraceuticals, cocoa and resins. From coarse to ultra-fine, our equipment can do the job on most soft to medium hard materials.
Read more...
Bauermeister History
The founder of the business, Emil Ludwig Hermann Bauermeister, started this Hamburg based business in 1882 as a supplier of grain mills. Even back then, investments in innovative developments were a major part of company policy. In 1900, Bauermeister applied for world-wide patents on their equipment and the first plant went into full scale serial production. Early 1900s also marked the expansion of the business into the processing of cocoa beans, cocoa powder and chocolate with specialized equipment and complete facilities.
Mission Statement
Bauermeister continually adapts its tried and proven equipment to the requirements of the market, always ready to fulfill the special needs of its customers with processing plants designed to be both technically and economically sound.
Markets Served
Various food products, confectionary, fertilizers, chemicals, cosmetics, minerals, herbs/spices, pigments, oil seeds, pharmaceuticals, lactose, super absorbents, nutraceuticals, cocoa and resins. From coarse to ultra-fine, our equipment can do the job on most soft to medium hard materials.
VFB Bocedi
BOCEDI was founded in 1966 by brothers Vittorio and Franco Bocedi. The trademark VFB BOCEDI was born from the initials of their names and surname.
BOCEDI works in several sectors all over the world: sacks, peat, fertilizers, cement, premix and glues, bricks, roofing tiles, ceramics, tiles, bituminous underlayments and membranes, beverage, food, chemicals and petrochemicals, white goods, paper, sanitary wear etc.
Read more...
Company BOCEDI, founded in 1966, specializes in the construction of automatic machines for packing palleted and palletless loads on, and is leader in projects for the complete end-of-the-line machine systems.
    Hooding systems
    Shrinking systems
    Strapping systems
    Conveyor systems for pallets
    End-of-line projects and engineering
Company BOCEDI builds:
Stretch hooders – multiple size
Shrink hooders – multiple size
Combined shrink hooders
Wrapping and banding machines
Tunnel shrink ovens using gas or electric resistances for warm air shrinking process
Ring shrink ovens using gas or electric
Shrink wrappers for small packages
Horizontal and vertical strapping machines
Corner applicator
Electro pneumatic centering devices
90° and/or 180° turntables
Hydraulic lifting platforms
Conveyances by chains, belts, motorized rollers and idles
90° transfer and shuttle cars
Complete automatic end-of-line packaging machines for palleted and palletless loads
Machines designed with special features according to the clients needs
DS Smith
Why we believe in the Power of Less
The world wants us all to do more with less. Increase sales with fewer resources. Boost marketing impact while cutting costs. Innovate more while taking fewer risks. Who do you turn to at a time like this? A company that believes in:
The Power of Less®
Everybody at DS Smith is obsessed with doing more while using less. Operators on the assembly lines feedback insights for optimising pallets. Consultants clamber inside containers with measuring tapes. Designers add strength while cutting weight.
Circles are simpler than chains. When you think of your supply chain as a cycle, you re-use materials, lower costs and reduce risk. That's The Power of Less in action.
Less waste and more recycling
Less materials and greater impact
Less cost and increased prosperity
Less complexity and greater efficiency
Read more...
Redefining packaging for a changing world
We are different as we see the opportunity for packaging to play a powerful role in a changing world. We help our customers respond to changing shopping habits with the sustainable packaging solutions that our society needs.
We think differently. We take a flexible approach to the solutions we create and operate where our customers need us. Our people thrive on finding innovative ways to help customers achieve more for less – sell more, reduce costs, manage risk and complexity in their supply chain.
We innovate together. We tackle big challenges in the whole and not just one part to find answers that would otherwise be out of reach. From design to production and supply to recycling we offer our customers a joined-up solution that is sustainable for all.
We put sustainability at the heart. We can make, use, collect and recycle cardboard packaging within 14 days. We are ambitious in using innovation to tackle some of the world's most complex sustainability challenges.
We develop the right strategies. Our experts work closely with customers to understand their needs. Together we find ways to help take advantage of today's opportunities to powerfully deliver products.
Enercon Industries Corp.
Enecon Industries Corp. is the leading manufacturer world-wide of induction cap sealing systems for the packaging industry. It produces a complete line of solid state induction cap sealing systems to improve the packaging of food, chemical, pahmaceutical, cosmetic and dairy products.
Read more...
Enercon is the world's leading manufacturer of induction sealing systems and associated support equipment.
Companies in the packaging industry rely on Enercon to provide induction cap and capless sealing solutions providing hermetic seals that stop leaks, enhance shelf life, provide tamper evidence and preserve freshness.
Enercon Induction Sealing Systems
We're committed to delivering the most technologically advanced and cost-effective solutions to your operation. Our application specific solutions ensure maximum uptime and performance. And should you ever need additional assistance, you'll find that our worldwide support operations are unsurpassed as the industry's most accessible and comprehensive.
Innovation & Commitment – A World Leader
Enercon's unparalleled reliability and revolutionary induction sealing innovations empower packaging operations around the globe. Our reputation for world class technology and support is well earned. Our dedication to advancing the industry is exemplified by our vigorous involvement in trade associations and organizations.
Customized Solutions – Application Expertise
For nearly thirty years we've delivered induction sealing solutions around the world. Our respected team of application engineers offers unparalleled application experience. These induction sealing experts optimize system performance by configuring solutions for your specific needs.
Research and Development – Advanced Testing
Enercon staffs a full-time research and development team. Our extensive testing facilities include capabilities for developing innovative sealing solutions. As containers & closures continue to evolve from round to non-round shapes, Enercon pioneers the development of induction sealing solutions for these unique applications.
Global Perspective – Local Support
Our global network of sales and service representatives work closely with your technical team before, during and after installation. They provide you with technical advice and practical assistance to ensure your operation runs at optimum efficiencies.
Enercon's steadfast customer dedication is highlighted by our unsurpassed customer service and training, prompt global on-site service, and leading edge interactive on-line technical support.
Fillers/Inline Filling Systems
TURNKEY FILLING MACHINERY WITH OVER 20 YEARS EXPERIENCE
All of our quality products are designed and fabricated in our Florida, USA factory.
Inline Filling Systems has an installed base of over $100MM of equipment in over 50 countries.We offer the widest technical range of filling machines than any other manufacturer in the world. Both large organizations and small start-up companies trust Inline Filling Systems for the correct choice of a liquid filling solution
Read more...
FILLING MACHINE SELECTION GUIDE
There are many different technologies and capacities of filling machines available on the world market. It is possible to fill many products on more than one type of filling machine. Choosing the best liquid filling machine for your application is a complex decision based on a host of factors including product characteristics, container characteristics, fill size, daily production needs, plant environment, regulatory issues and hardware cost versus performance.
Machine capacities range from the humble manual filler operating at 10 containers per minute (CPM) to high-speed rotary systems operating at 1000+ CPM. Inline Filling Systems specializes in machines for companies producing up to 200 CPM as well as startup companies producing less than 1000 containers per day.
There are expensive liquid filling machine technologies beyond the reach of most small to medium sized bottling operations. There are also some very cheap machines, including Chinese and other foreign imports, that cost owners more to maintain and often result in production downtime or quality issues. After designing and building many different types of filler machines over a 20 year period and operating our fillers in our own contract packaging environment, we have the wisdom and experience to offer you only those technologies which provide the best versatility, flexibility and reliability for the best cost.
The machines we recommend are listed below with links to more information that will help you understand how to select the type and capacity filler you need for your operations. Also, you may click on the link here for our Filling Machine Cross Reference Guide to better understand the pros and cons of each filling technology.
GW Innovation
CUSTOM FOOD PROCESSING MACHINERY, STEEL FABRICATION, AND SERVICE FOR OVER 20 YEARS.
At our custom manufacturing facility in Fresno, California we will design a system to meet your specific needs. We design, fabricate, test and install: elevators, separators, graders, mixers, vibratory conveyors, dicers, belt conveyors, dumpers, scale platforms, vacuums, washing systems, packaging systems and much more. We may also compliment your existing systems with unit upgrades and additions for greater productivity. Here at   we will work with you to create custom processes that will keep you within the range of viable budgetary solutions.
GWI's background in manufacturing for the commercial  food processing industry has focussed on products such as meats, wines, poultry, nuts, raisins, grapes, vegetables, fruits and more.
GWI is a single source for your custom food processing machinery and equipment manufacturing in California requirements that will deliver performance, integration, and reliability to your satisfaction.
GW-FLX Vibratory Conveyors
Ultra-VAC Product Separator
Vibra-Vator Vibratory Elevators
De-clumpers
Conveyors
Scale Platforms
Dumpers
Elevators
Dicers
Rotary Separators, Washing Systems and Flavoring Tumblers
Packaging Solutions
Hinds-Bock
Hinds-Bock's building has allowed the company to improve its overall mark on the food, bakery & specialty chemical industry. Hinds-Bock Corporation has been a privately held company dedicated to meeting the needs of food production, bakeries, cosmetics and specialty chemical companies for high quality piston & servo depositing/filling equipment and systems. Our experience in the design, manufacture and marketing of filling and depositing equipment and related automation actually dates from 1962 and the Philip Bock Corporation, which pioneered air powered piston filler technology.
Juran Technologies
Juran Technologies is the world leader in the design and development of innovative agriculture and food processing products. With over 40 years experience and activities on 5 continents, Juran's knowhow and creative insight result in leading-edge products that give its customers the leading-edge advantage. Accompanied by an unparalleled level of service and customer support, the Juran name has become synonymous with enhanced productivity and quality around the world.
Read more...
Juran
Innovative machinery for the Agriculture and Food Industries
Juran Technologies is the world leader in the design and development of innovative agriculture and food processing products. With over 40 years experience and activities on 5 continents, Juran's knowhow and creative insight result in leading-edge products that give its customers the leading-edge advantage. Accompanied by an unparalleled level of service and customer support, the Juran name has become synonymous with enhanced productivity and quality around the world.
ArilSystem™ – Finally a better way to extract fresh arils from pomegranates
The Power of the Pomegranate
This unique fruit is rapidly gaining recognition for its amazing wealth of healthful and healing properties, in addition to its good looks and tangy taste. Today the fresh-cut, food, bevereages, cosmetics, and pharmaceutical industries are awakening to its huge potential.
Revolutionizing an industry
Simplifying extracting of the juicy arils so that it's no longer a labor-intensive process, means that:
Today, we are on the brink of a pomegranate revolution. Fresh arils willl soon be accessible to every home.
Juran, specialists in developing innovative machinery for the agriculture and food industries, brings you a new automated method for extracting arils from pomegranates – the ArilSystem™ System, developed in cooperation with the Agricultural Engineering Institute of the Israel Ministry of Agriculture. It is already successfully operating on 3 continents.
The ArilSystem™ Innovation
Making the process fast, easy, and cost-effective, ArilSystem™ is:
• Labor-saving – Processing upto 20 pomegranates per minute with minimal labor.
• Highly efficient – 95% of the fruit's arils are extracted with little or no damage (2%-3%).
• Automated – Cleaned and untouched by human hands, the hygienic and high quality arils enjoy a far longer shelf-life than ever before.
• Value-Adding – Peels, membranes, and pits if the end-product is juice, are separated out, yielding a pure product plus by-products that can be utilized for additional revenue.
Fast and efficient from pomegranate to packaged arils – Now exploitation of this remarkable fruit by its potential markets can turn into real profit!
Super-Fruit Benefits
With the pomegranate demonstrated abilities to:
Fight cancer, clear blocked arteries, reduce blood pressure and bad cholesterol (LDL), enhance healing, rejuvenate the skin, fight ostroarthritis – due to its offering the highest levels of antioxidants, vital vitamins, and much more – these amazing properties can now affordably be harnessed by:
• Supermarkets
• Catering Companies
• Hotels & Restaurants
But consumers will benefit the most. And Once they taste it, they'll demand more.
ArilSystem by Juran
Until now commercial aril extraction methods were inefficient, unhygienic, and costly. The ArilSystem revolution has turned these results on their head. Now commercial extraction of pomegranate arils is highly efficient, nearly untouched by human hands, and offers a range of new benefits besides.
ArilSystem Pomegranate Deseeder enables a highly accelerated production rate with minimal labor, making it far more cost effective. The resulting product is high quality, hygienic, with excellent taste and longer shelf life, and fetches an attractive market price.
Marion Process Solutions
Since 1938, the commitment to excellence has been the hallmark of the Marion brand. We custom manufacture processing solutions designed to fit the specific requirements of one type of application – yours. When you partner with Marion Process Solutions, you choose American made… craftsmanship at its finest. It's simple really, when you're proud of your work, you sign your name to it.
You'll find it on everything we build.
INSIGHT
We are more than a manufacturer, we are problem solvers.  For nearly 80 years, we have partnered with customers in the development of custom solutions that leverage our experience in working with thousands of applications.
INNOVATION
To be the industry leader, we have to constantly reinvent ourselves.  Find unique solutions in every new challenge. Look at opportunities from every angle.  Turn inspiration into ingenuity.
 ADVANTAGE
Simply put, Marion Process Solutions creates a competitive advantage – for you.  Our passion for excellence provides you with an edge today, and for many years to come.
McBrady Engineering Orbital Cleaners
Having sold more than 1,800 cleaners for various applications in the Food and Beverage, pharmaceutical, personal products, chemical and automotive industries, McBrady Engineering has successfully established a reputation as the leading innovator in the container cleaning industry.
Read more...
Located in Joliet, Illinois, McBrady Engineering's manufacturing facility of over 30,000 sq. feet is capable of handling all current manufacturing needs as well as having the facilities for further future growth.
McBrady Engineering has additional sales representatives in Australia, Asia, South America, Europe and in over 40 cities through out the continental United States and Canada.
Having sold more than 1,800 cleaners for various applications in the Food and Beverage, Pharmaceutical, Personal Products, Chemical and Automotive Industries, McBrady Engineering has successfully established a reputation as the leading innovator in the container cleaning industry.
Mission
McBrady Engineering strives to manufacture the best container cleaning equipment of the highest standard. By adhering to strict manufacturing and customer service policies, McBrady Engineering is able to meet/exceed all of our customers' needs and expectations.
O.K. International Corporation
The OKI Group is a leading global manufacturer of integrated Packaging Automation Systems, specializing in "Single Source Solutions" for a wide array of "End of Line" system applications. Our portfolio of technology, process optimization, and services help our customers achieve their productivity and business performance goals.
Complete Packing Lines
Polybag-in-box Liner
Polybag-in-box Bag Closers
Bulk Weigh Fillers
Case Erectors
Case Sealers
Conveyors
Film & Tape
ORICS Industries Inc.
ORICS is a leader and innovator in the field of Modified Atmosphere Packaging Machines (M.A.P.) and cup tub and tray filling and sealing packaging machines. Since 1990, ORICS has designed and manufactured award-winning packaging Machines utilizing denesters, fillers, sealers to create turnkey solutions. We make packaging machines and systems for virtually any product that is packaged in tubs, trays or, cups. With the addition of the FFS-30, ORICS' Horizontal Form-Fill-Seal System, ORICS now has the largest catalog of sealers manufactured in the United States. That's right… all ORICS equipment is manufactured in the USA at our Farmingdale, NY facility.
Peco | InspX
Peco | InspX is a leading provider of inspection systems for the food, beverage, and pharmaceutical industries.  Headquartered in Silicon Valley, California, we combine cutting edge technology with rugged construction to produce high performance, reliable inspection equipment.  From X-Ray inspection to fill level detection, Peco | InspX equipment addresses a broad range of inspection applications.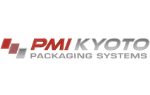 PMI Kyoto Packaging Systems
Cartoning & Case Packing Solutions Built-To-Perform
PMI KYOTO is the leading U.S. manufacturer of packaging machinery and equipment. We've been making high quality cartoners, case packers and other cartoning machines since 1993. We design and manufacture a full line of packaging machines. We can custom design and build any of our packaging systems to meet the demanding needs of your packing challenges. When it comes to packaging equipment, PMI KYOTO has one of the most diversified product lines in the industry.